Profile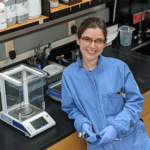 Sabrina Slater
About Me:

I'm a British scientist melting in the heat of Austin, Texas. I love dogs, languages and getting lost in nature*

🇬🇧🦠🐕🌿🌍🧬

*I suck at navigating so it happens pretty often.

My Work:

I study the way bacteria make and deliver toxins to interact with their neighbors 🧪

Read more

I'm a molecular microbiologist – that's a fancy way of saying I'm interested in the stuff that goes on inside bacteria 🧐

Turns out the inside of a bacterium is a pretty complicated place! 🧫

Bacteria need to know what's going on around them: are there any other bacteria nearby? Are they friend or foe? Is there enough food around? Are there toxic things to avoid?

One of the main ways bacteria get to know their surroundings is by making and pumping out proteins. These proteins can send a message, like "there aren't enough of us here, let's keep growing!", "let me grab some nutrients!", "this is my spot, you're not welcome!".

I'm mostly interested in that last message: how do bacteria get rid of unwanted guests, and why might they want to do that?

My Typical Day:

I get to the lab between 9 and 10 AM and start getting my materials prepped for my experiments. Most of the fun stuff happens between 11 AM  and 6 PM, as this is when my bacteria are happy and growing. Before I leave, I choose which bacteria to feed so that they're ready for tomorrow's experiments 👩🏻‍🔬

Read more

Because my bacteria are alive, I have to schedule my work around what they want to do. It normally takes around 16 hours for bacteria to fully grow, so I plan for that to happen overnight (they work while I sleep!).

Some mornings we have group meetings where we share all the exciting results from our experiments with other people in the lab, and talk about what experiments to do next. If not, most of my day is spent between the laboratory bench and my computer – I do my experiments and then organise the results they give me so that other scientists can understand what I've done. When I'm not in the lab, I read about what other scientists from all over the world are doing, and whether their work can help me decide what to do with my bacteria!

What I'd do with the prize money:

I would set up a mini-lab for a local school to come be a scientist for a day! We could learn about some different types of "good" and "bad" bacteria, then try growing some for ourselves. We would take pictures of what grows for everyone to take home and remember.

Work History

Education:

After graduating high school (or secondary school, as we call it in England), I went to Imperial College London to study a Bachelor of Science (BSc) in Biochemistry.

From there I got interested in the lives of human and bacterial cells, and the building blocks that make it all happen. I then did 2 (yes, 2!) Master of Research (MRes) degrees in Molecular Cell Biology and Structural Molecular Biology, which sound the same but I assure you they are very different 😉

After that, I finished my Doctoral Degree (PhD) in 3 years, and now I get to sign all of my Christmas cards with Dr Sabrina! Oh, and do cool Science, but mostly the Christmas card thing.

🤓

Qualifications:

Our system in England is a little different so stay with me here!

At age 16, I took 12 different subjects for "GCSEs", including some favourites like Biology and woodwork.

At age 18 I specialised in 4 of these at "A Level", which is the highest qualification Brits can get before they go off to college. I chose Biology, English, French and Chemistry.

Based on my "A Levels", I received offers from different colleges (universities) to go study Biochemistry. I finished with that when I was 21, and the rest is history!

Work History:

I've always loved teaching, so I started as a private tutor when I was 16. I would teach one-on-one but also small classes of 3-15 students in Math, Science and logical reasoning. When I was 24 I got a full teaching qualification, and I kept teaching whenever I could all the way through to when my PhD ended when I was 26.

Teaching is a really fun way to understand how different people learn, and practise a million ways to say the same thing – becomes quite useful when you're talking to scientists from different places 🗺

Current Job:

I work at the University of Texas at Austin, in the heart of the Texas capital. Here, I am a Postdoctoral Fellow, which means I finished my PhD and now get to play with the BIG machines 🔬

My Interview

How would you describe yourself in 3 words?

Small but mighty

What's the best thing you've done in your career?

Traveled all over the world to share my science!

What or who inspired you to follow your career?

That little voice inside my head

What was your favorite subject at school?

Biology! English! French! Chemistry! Latin! I can't pick.

What did you want to be after you left school?

A medical researcher

Were you ever in trouble at school?

Only good trouble

If you weren't doing this job, what would you choose instead?

Something where I also get to use my hands and design projects, like a watchmaker or a carpenter

Who is your favorite singer or band?

My Spotify account is a very confusing place...

What's your favorite food?

🍝🍝🍝🍝🍝

What is the most fun thing you've done?

This, of course ;D

If you had 3 wishes for yourself what would they be? - be honest!

Infinite nap time, the ability to do experiments at lightning speed, and invisibility (for when things don't work!)

Tell us a joke.

Did you hear the one about the germs? Don't worry, I wouldn't want to spread it around.
---
---
---
---