Profile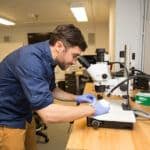 Andrew Scarpelli
About Me:

My name is Dr. Andrew (Andy) Scarpelli, and I live in the great city of Chicago. I'm a molecular biologist/synthetic biologist who has started building a career in an art and design school, but in my off time, I bike, study history and science, and do a lot of community service within my city.

Read more

I'm an avid biker and get around my city almost exclusively on my bike all year round. With some friends, I've started to build a community biology lab, meaning a place for everyone to have access to a science lab and explore how to grow slime mold, paint with bacteria, look into their DNA, and many more activities with anyone who's interested in playing around. I spend a lot of time thinking about how to improve my city, and I think it's a really great thing when scientists interact with the world around them or when people who are intimidated by science still try to help solve the mysteries of the universe.

My pronouns are:

I use he/him pronouns. I think it's really cool when people are confident and clear about who they are and what they want to be called, so I'm always excited to hear your pronouns.

My Work:

I work in a field where I am a biologist working the world of art and design. Sometimes, scientists struggle to communicate their big concepts, but artists and designers build their careers in communicating their feelings, emotions, and passions to the public. I try to bridge this gap, getting people interested in biology and genetics, then help them design or create art projects that communicate their interests accurately to a broad audience.

My Typical Day:

I wake up and bike to work most mornings, trying to get there by 8 AM. I have a few different responsibilities there, so I split my time between the lab and the classroom. I bike home around 4 or 5, and try to enjoy a leisurely ride home.

Read more

I get up around 7 and bike down the Lake Shore Path here in Chicago towards the lab at the Art Institute of Chicago. My workday day is typically a mix of teaching, consulting with students on various projects in the lab, maintaining cultures of different microbes and organisms, and helping organize the lab. We have students working on projects ranging from living sculptures, biomaterials, and microfluidics to slime mold communication, biomusicology, and habitat restoration. My main role for students is to be an interpreter between the language of science to the language of artists and designers. In the lab, we maintain cultures of various engineered strains of E. coli (Bacteria), Pseudomonas fluorescens (Bacteria), Physarum polycephalum (Slime mold), Pleurotus sp. (fungi), and many others. We also have a have a vermiculture bin (Worm compost) that I maintain. I'm usually bouncing between these responsibilities and teaching. I teach courses on genetics, bioart, biodesign, and biomaterials. Around 5, I hop back on my bike and head up the Lakeshore path home. I like to stop and grab groceries from the different grocery stores on my way home for different snacks and goodies. My favorite is when the Vietnamese grocery has bahn cam.

What I'd do with the prize money:

I'd donate it to my community biology lab that I've been working on, trying to create a public space for people to play, learn, and build with biotechnology.

Read more

Community biology labs are places where anyone can walk in the door, get trained, and start working under scientific supervision on a project they're really interested in. There are many across the country, but most of them are on the coasts. Some friends and I are trying to get one started and running here in Chicago, but it takes a lot of work and a little bit of money to get started. We really want to be a place where people can start citizen science projects, have room to experiment, have access to equipment to create bioart, or take lessons on fundamental biology.

Work History

Education:

I got my undergraduate degree at the University of Michigan, worked for a few years, then got my PhD at Northwestern University.

Qualifications:

When I was in high school, I really liked biology, chemistry, and physics, so when I went to college, I thought I might want to be a pharmacist. My organic chemistry professor convinced me to consider organic chemistry, and I ended up with degrees in chemistry and biochemistry. I worked for a few years as a technician in a molecular biology lab before deciding to get my doctorate at Northwestern. I've been teaching for the last 5 years at various institutions around Chicago, and I'm really passionate about biology and bioengineering.

Work History:

I worked just about every job I could since I was a teenager. In high school and college, I was a lifeguard, a swim instructor, a retail employee, and a front desk attendant in a dorm. After college, I was a technician in a lab for years before realizing I wanted to get my PhD. After my PhD but before I started teaching, I tried doing data review and consulting, but I really wanted to start teaching as soon as possible.

Current Job:

I'm currently an associate professor, adjunct at the School of the Art Institute of Chicago. It's fun to be at the intersection of art and biology.

My Interview

How would you describe yourself in 3 words?

clever, thoughtful, playful

What's the best thing you've done in your career?

I've mentored some really brilliant students

What or who inspired you to follow your career?

Rachel Carson

What was your favorite subject at school?

art, history, and chemistry

What did you want to be after you left school?

I had no idea. Still don't.

Were you ever in trouble at school?

I plead the 5th.

If you weren't doing this job, what would you choose instead?

I'd have love to have been a historian

Who is your favorite singer or band?

Changes day to day

What's your favorite food?

Habbas con chile y limon

What is the most fun thing you've done?

Chiditarod

If you had 3 wishes for yourself what would they be? - be honest!

I'd love for my nonpofit to be up and running, I'd love to have a yard with a garden, and I'd really love a nicer bike

Tell us a joke.

I wrote this as a student, and I'm still proud of it: Why did the bowl of soup outlive the bowl of salad? Because it came from a hearty stock!
---
---
---
---