Profile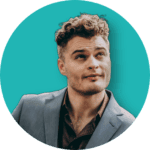 Sean Jackewicz
About Me:

I'm a synthetic biologist which means I study the way Nature has solved problems with biology and I try to apply those lessons to problems we face in a new way. My work has mostly been spent trying to build DNA engineering tools for other scientists to use to cure diseases like cancer or autoimmune disease.

Read more

I am currently a medical student at Mercer University School of Medicine in Savannah, Ga. My goal is to be a US Navy Flight Surgeon.

I started genetics research when he was only 17 years old for company now known as CarryGenes Therapeutics from a very lucky internship. I have since achieved my bachelor's degree in Genetics from the University of Georgia while I worked as a Genetics Consultant for private companies and healthcare practitioners. I am currently in my second year of Medical School and am hoping to be an aerospace medicine specialist (a doctor for pilots and astronauts). My current research focuses on using genetic systems elephants use to live long and prevent cancer to help people who go through cancer treatments, live in space, or recover from war!

I have been apart of several research & development projects, ranging from subjects like cancer biology, synthetic biology, epigenetic modifications, infectious disease, fungal genomics, bacterial genomics, mammalian genomics, and nutrigenomics. I have been apart of and organized several of these projects to successful outcomes.

I enjoy appearing on podcasts to talk about the significant changes occurring in the genomics industry and I administrate a social media platform that focuses on teaching my followers about genetics. The best way to talk with me and follow my journey through healthcare is through my Instagram: @evolu.sean

My Work:

My current research focuses on using genetic systems elephants use to live long and prevent cancer to help people who go through cancer treatments, live in space, or recover from war!

Read more

Every time a cell divides, there is a chance of acquiring a mutation that will cause cancer. So it should be fair to assume that with more cells, there would be more divisions, and so bigger animals should have more cancer than smaller animals. But that isn't what we actually see in Nature. In fact, it is the opposite! Elephants and whales get less cancer than other animals. This is known as Peto's Paradox.

Why this is seems to be different for different animals? Some animals have evolved with special genes that decrease cancer rates in special ways compared to humans. The elephant in particular has evolved to have 20 copies of the p53 gene! Humans only have 2.

Wait… what is p53? TP53 stands for Tumor Suppressor Protein 53. It is also known as the… GAURDIAN OF THE GENOME! Kind of like a Marvel superhero. This protein is activated when your cells want to replicate and divide but there is a bad mutation found. So p53 will stop the division and direct other proteins to repair the mutation the cell can divide properly. But, some people are born with broken p53 genes and others can have their p53 genes broken while they live. Mutations in p53 are found in almost all cancers.

So, what if we could have more copies of p53 like elephants do? Well that's what I want to figure out. If we could give people more copies of p53, could we decrease cancer rates and help them live longer?

My Typical Day:

Right now, most of my time spent is actually study medicine since I want to be an MD. But I do my research during the summers. Typically I would get into my lab 9am, plan out my day of experiments and check how my experiments have gone from the prior day. Then I get to work setting up new experiments or managing ones that are still in progress. I would usually only spend about 4-5hrs in the lab. In the afternoon or on a day with less bench work to do, I will usually go to the park and read the newest research. My research days usually ended around 3 or 4pm. For my experiments, I did have to come in on the weekends and holidays too just because I didn't want my cells to die. They are very sensitive.

What I'd do with the prize money:

I am currently trying to write a book about how to focus using what we know about evolutionary neurology and I would spend the money on costs for an editor and designer.

Work History

Education:

Savannah Arts Academy | August 2011-May 2015
Majored in Communication Arts GPA 3.5
• Class President

Georgia Southern: Armstrong Campus | August 2015-December 2016
Majored in Biochemistry GPA: 3.78
• HOPE Scholarship Recipient

University of Georgia | January 2017-May 2020
Bachelor of Science in Genetics GPA: 3.53
• HOPE Scholarship Recipient

Mercer University School of Medicine | August 2020-Present
Doctor of Medicine
• US Navy Health Professional Scholarship Program Recipient

Qualifications:

Savannah Arts Academy – High School

I actually studied film and communications as a young student before I found out how much I loved biology

Armstrong University – College

I went to a small college first because I didn't get accepted into the university of my choice. I spent the time to improve my study skills and get my core classes done.

University of Georgia, Benjamin Franklin College of Arts and Sciences – Undergraduate

I re-applied and got into my dream college. The oldest public university in the USA with a world renowned genetics program. I worked VERY hard here. I unfortunately could complete my thesis project because of COVID-19.

Mercer School of Medicine – Medical School

I came back to my hometown to pursue my medical degree and continue my research.

Work History:

Butterfly Genomics
Head of Research & Development (Part-Time) August 2017-June 2020
• Led an international team of software developers, genetics researchers, & artists
• Designed a logical system to analyze clients' genotypes to evaluate health risks
• Analyzed data from hundreds of academic journals across many distinct subjects

University of Georgia
Undergraduate Researcher for the Lewis Lab (Unpaid) September 2018-May 2020
• Organized, planned, and executed molecular experiments pertaining to epigenetic modifications
• Trained Masters & Doctorate Candidates how to perform & improve specific protocols
• Synthesized outcomes into a presentable thesis during the COVID-19 pandemic

• Analyzed results and improved on techniques from prior experimenters
• Contributed data to future publications

Lyft
Lyft Driver (Contractor) July 2018-September 2018
• Transported passengers safely from pickup to their destination

Georgia Athletic Hospitality
Athletic Hospitality "Fangineer"(Contractor) August 2017-December 2017
• Greeted and guided UGA donors to their stadium seats
• Attended dietary & beverage needs for UGA donors
• Maintained water stock during UGA football games for donors

YourPie
Pizza Maker (Part-time) October 2015-December 2016
• Made custom pizzas for customers
• Operated sales equipment
• Washed dishes

SynPloid Biotek/Mercer University School of Medicine
Contracted Lab Researcher (Part-Time) May 2015-December 2017
• Organized, planned, and executed molecular experiments pertaining to artificial chromosome construction
• Analyzed, improved, and presented results to design novel techniques
• Synthesized and presented data at the Armstrong Spring Science Symposium
• Contributed data to future publications

Current Job:

Medical Officer for the United State Navy

The Navy pays for my medical school in exchange for service in the future.

Employer:

My Interview

How would you describe yourself in 3 words?

Curious, Creative, Compassionate

What's the best thing you've done in your career?

Save a life

What or who inspired you to follow your career?

So many people, but first would be my mother. She is a nurse and I saw her save a child's life when I was a kid and it inspired me to become a doctor.

What was your favorite subject at school?

Biology and Literature

What did you want to be after you left school?

Medical Doctor

Were you ever in trouble at school?

Often! Nothing too bad, but I'm not the best at following rules

If you weren't doing this job, what would you choose instead?

Computer Science

Who is your favorite singer or band?

I like a lot. But Hippo Campus might be my go to right now

What's your favorite food?

Sushi!

What is the most fun thing you've done?

I went on a river cruise in Germany with my sister and grandparents for a month a few years ago and it was a great adventure!

If you had 3 wishes for yourself what would they be? - be honest!

To be a very good doctor. To live in a Castle. To create a tool that saves many lives.

Tell us a joke.

What do you call a pig that does karate? A pork chop.
---
---
---
---